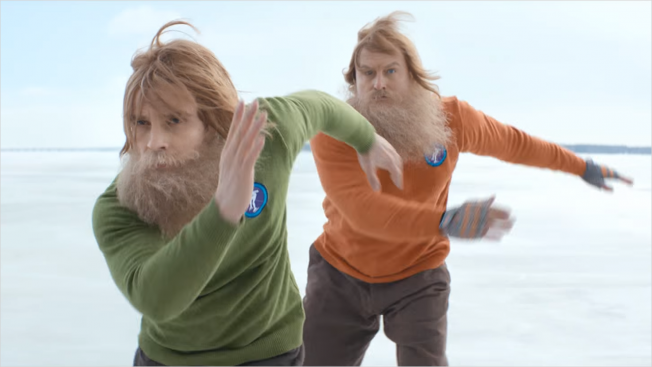 Rekorderlig Cider: "Silver Skaters"
Agency: Saatchi & Saatchi, London
Country: U.K.
It's hard not to love something so joyously quirky and yet still perfect for the product. In case you're curious, the music is "The Reindeer Herder's Joik" by contemporary Swedish musician Jon Henrik Fjällgren. At Epica, it won gold in the Alcoholic Drinks category.

Hardys Wine: "Proud Sponsors"
Agency: McCann Central, Birmingham
Country: U.K.
This cheeky campaign featured a huge array of ultra-short sponsorship spots, showing that a great idea isn't limited to 90-second cinematic ads. The campaign shared a gold in the Alcoholic Drinks category at Epica with the Rekorderlig Cider spot above.

Telenor Norway: "Puppy Love"
Agency: Try Advertising
Country: Norway
Here's a fun spot that brings a modern twist to some classic (and charming) storytelling. The spot from Norwegian telecom Telenor won gold in Epica's Telecommunications & Public Service category.

Canal Digital: "The Clowns / The Chainsaw"
Agency: TBWA Stockholm
Country: Sweden
I won't spoil the hook on these spots, which both take their stories in some wonderfully unexpected directions. The ads won gold in Epica's Media category.

Fundacion Argentina de Trasplante Hepatico: "The Man and the Dog"
Agency: DDB Argentina
Country: Argentina
Sure, this one tugs at the heartstrings in some pretty tried-and-true ways, but it's still a strong example of sentimental storytelling that can leave a lasting impact. It won gold in Epica's Health & Safety category.

Fundacion Juva Santé: "Whatever Happens"
Agency: HAVAS 360, Puteaux
Country: France
These spots are a bit repetitive, but they're supposed to be. The campaign has some fun with the timeless challenge of having to sell multiple, largely unrelated products in one ad for a parent company. They won gold in Prescription & OTC Products at Epica.

Durex: "Arrivals"
Agency: Havas Worldwide Istanbul
Country: Turkey
There weren't too many standout print campaigns at Epica this year, but this one was certainly a hit. Perhaps the best part was the audience's delayed reaction at the awards ceremony, when a few seconds of silence were followed by booming laughter. The ads won gold in Healthy, Beauty, Cosmetics & Toiletries.
(Click the images below to expand.)
Source: Adweek.com